Video beyond Voice Push-To-Talk
ProPTT2 Upload App
Automatic upload is supported online after recording video / audio / photo in offline environment.

Section
Minimum Requirements
Go to Download page

more

Android Application
Android 4.3 (Jelly Bean or above)
Samsung Galaxy S3 or above, Galaxy Note 3 or above


Some low-spec devices may not be supported.
Supports video / audio / photo recording in offline situations. When you go back online, they are automatically uploaded and stored in storage.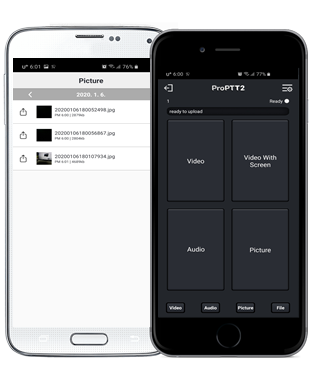 video recording

You can record videos in the required environment. MP4 format

Shoot video recording without preview

Support video recording automatically without preview screen.

Voice recording

Support voice recording. MP3 format

Photo shoot

Support for taking pictures. You can do this during movie recording also.

Local file support

In addition to recording, you can upload existing files.

Record List

You can check the recorded files and the files being uploaded.

Auto upload

Automatic upload and automatic deletion are supported when online.

Settings

User settings such as camera settings and language settings are supported.

Integration with PTT app

Supports simultaneous access control for audio / video devices when Upload and PTT apps are used on the same terminal at the same time.
ProPTT2 Service
We provide ProPTT2 App / Cloud service to individual users/organizations
/enterprise customers by using ProPTT2 applications.